!EMBED SRC="openin36.wav" WIDTH="2" HEIGHT="2" autostart=true hidden=true volume=50%>
Bewitched and Elizabeth Montgomery Sound Clips
---
Download (DL) times are based on a transfer rate of 2.5 to 2.8 K/Sec. If the Net is unusually slow, or you have a modem slower than 28.8, DL time will be longer.

NOTE: You must have a sound card & speakers or headphones to hear the sounds.
If you have trouble downloading the sounds, click here.
All sounds on this page &copy The Bewitched & Elizabeth
Montgomery Web Site, and may not be used in this or
any other form on other web sites or sold to the public.
---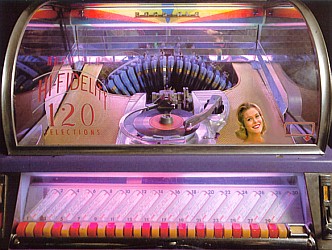 Welcome to the Bewitched jukebox! The jukebox conatins a large number of sound clips, which are picked randomly when you click on the jukebox in the Bewitched Lounge.

If you need help playing the jukebox sounds, check here.
DL Time for most sounds (all under 100K) in the jukebox: under 30 Seconds

1. Liz is asked the question "Was the replacement of the Darrin rough on everyone at the time?" Real Audio, streaming


2. Liz discusses her dad in relation to the pilot episode of Bewitched. Real Audio, streaming


3. Question: Do you have a favorite movie which your dad starred in? Real Audio, streaming


4. Liz talks about her father's role in being an advisor for President Eisenhower. Real Audio, streaming


5. Liz answers the question "did you ever discuss politics with your father? Real Audio, streaming


** BEWITCHED.NET EXCLUSIVE **According to insiders at Game Show Network and other sources, the 1971-75 era of Password will probably never again be seen. While the episodes are listed in the Goodson-Todman catalogue, these 1971-75 shows appear to be yet another tragic victim of a foolish network supervisor who authorized either erasing or destroying the tapes to make room for storage in a network warehouse. They are lost and gone forever----that is, unless someone named Wendy sat in front of the TV that summer with her tape recorder and camera making sure she didn't miss a word during the week Liz and Robert Foxworth were on together! I may be the only one with any trace of these shows. Too bad there were no VCR's back then, but I did the best I could :-)

1. Hear the opening of the show here (remember that jingle?)
2. Lightning Round 1
3. Lightning Round 2
4. Lightning Round 3
5. Liz gets the word "medicine"
6. Wanna wiggle your nose?
7. Liz gets the word "flint"
8. Friday's show closing is here.


Click on a photo to see an MPEG video of rare ABC Bewitched promos and Liz doing a Clairol commercial.
Click the text links to hear only the audio portion.
Hear Elizabeth do the "NEXT IN COLOR" promos which preceeded the 6th, 7th and 8th seasons of the show (8th season coming soon). Click on each picture to hear the accompanying sound (28K).


Fly here to listen to sounds from around the world!
Learn all about the Bewitched theme music here