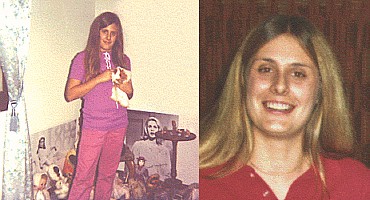 (Left) Me at age 12 (circa 1972) amongst 2 of her most important posessions! "I sent away for these large posters of Elizabeth when quite young, and I still have them today. They survived many moves!" (Right) Me all grown up.
"I was Bewitched at birth. Ok, maybe not at birth, but soon after! I barely remember a time when I wasn't mesmerized by Bewitched and its star Elizabeth Montgomery. Actually, Elizabeth looked quite a bit like my own mother (born the same year as Elizabeth), and they wore clothes that were almost identical (my Mom was quite unaware of TV generally, but not unaware of MY interest in Bewitched). I remember going grocery shopping with my Mom in the 60's. As soon as we were in the store, I made a beeline for the magazine section, and there I lingered, pouring through the tables of contents of all the many movie magazines there were in those days. Any which mentioned Elizabeth were put in a pile, and when Mom was ready to leave, she knew even though she was alotted a total of $20 for groceries by Dad, she HAD to buy me any "Liz" magazines I found! Since then I have spent many years collecting all of Elizabeth's TV and movie appearances on video (pre and post Bewitched), photos, as well as many other treasures along the way. I have really enjoyed creating the graphics for this web site (make sure you turn images ON!)"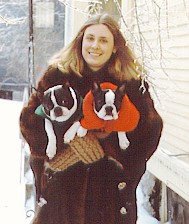 "From the time I was young, I always sensed that Elizabeth was not only an amazing actress and hard-working consumate professional, but that she was also a sweet and kind human being who really valued her family and friends. As much as I always wanted to meet or contact her, I knew how much she valued her privacy, and I never wanted to intrude on that."
We hope that we can share our love of Bewitched and Elizabeth here with you, as this site is dedicated to her memory.
Hear me interviewed on the radio here.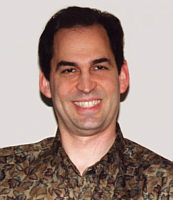 (RIGHT) My husband Joe
Joe remembers: "I watched Bewitched very closely, trying to figure out how they did all the special effects. When I was about 9, I began making movies with my brother's Brownie Hawkeye movie camera. I packed in as many effects as I could: appearances, disappearances, people gliding along without moving their feet, and claymation. My masterpiece was entitled (coincidentally) "Which Witch Is Which?", featuring my little sister in both title roles. She had to alternate between the two characters every other frame! Needless to say, this could be quite exhausting, especially for the scenes where the characters had to fly - by jumping in the air for each frame! My sister and I quickly learned to appreciate the effort that went into each episode of the series".