Bewitched and Elizabeth Montgomery Classic TV Memorabilia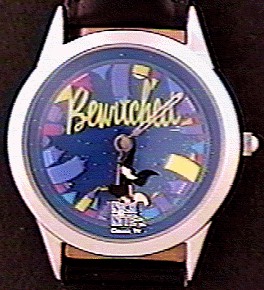 This is the hard to find Bewitched watch by Fossil. It was a limited, numbered pro·uction piece sold through a Nick At Nite television promotion in March 1995. It was originally priced at $59.95, or 2 could be ordered for $99. They sold out very quickly and despite requests from collectors, no more were produced. The watch features a black leather band with silver case, a moving skyline, and great Bewitched graphics. It is highly sought after on the secondary market, and is hard to find. It is a wonderful piece to add to any serious Bewitched collection. See below for the other great hard-to-find Bewitched Japanese watch!
NOTE: The following items are not for sale. Items will be added to this page as they become avilable.
>

All items/images purchased by us unless otherwise noted.
Vintage Comic Books by Dell - NOTE: The #1 Bewitched comic (April-June 1965) is the exact same as the #12 (October 1968) book. Also, the #2 comic (July-September 1965) is the same (except for cover price) as the #14 (October 1969) book. The #1 printing is still the hardest to find and the most costly.