In Loving Memory Of Kasey Rogers who played "Louise Tate" on our classic Bewitched TV Show
1925-2006
Our hearts are heavy as we announce to the Bewitched TV Show fans that Kasey Rogers (who played Louise Tate) passed away Thursday July 6. Mark Wood phoned us with the news. She fought a very long battle with cancer, but in the end, she was cancer-free. It was a stroke that took her which was caused by the damage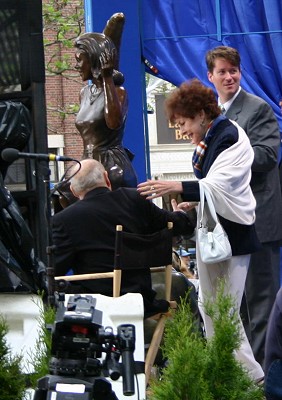 radiation had done to her carotid artery. Her long-time partner Mark Wood cared for Kasey like no one else could have, and they had a relationship any of us would be blessed to have. Mark should take comfort in knowing how much he meant to Kasey and how he was responsible for ensuring that she stayed in the limelight all these years where she belonged. She was a true star in every sense of the word. But even more than that, she was a great friend to us.
We met Kasey over 10 years ago, and Joe traveled to California many times for various events involving Kasey and of course went to Mark and Kasey's yearly Bewitched Halloween party.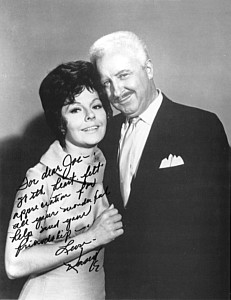 If you check our scrapbook page, you will see pictures of all the great fun they had together during those years. Kasey opened up many doors for us, helping us to meet with other former cast members, and our site could not be what it is without her generosity and input. She was the reason we were able to get onto the Warner Ranch backlot where Bewitched was filmed. No one at the ranch could turn her down for entry and a tour when she stopped by. In the early days, we spent hours upon hours helping her to set up her computer so she could see and experience our site. She always kept up with the latest technology, moving to the latest operating systems, browsers and more recently, a high speed connection. She was game for anything and always up for a challenge. I remembering her telling us about the westerns she had done in the 50's, she did her own stunts, hopping from car to car on top of a moving train - then later showing more of her daredevil side, riding motocross (read more here).
Kasey was not only a great actor, but she had that extra-special something that set her apart from your average person, something hard to put into words. She absolutely had warmth and HEART. She loved people, was warm and caring and was always ready for that next adventure. She was also BRAVE and probably the strongest person I have ever known. When we first met her, she had had radiation previously within that year, and it left her with almost no ability to taste. But there was one thing she COULD taste - MARTINIS, so she always was served up a martini at the Halloween parties.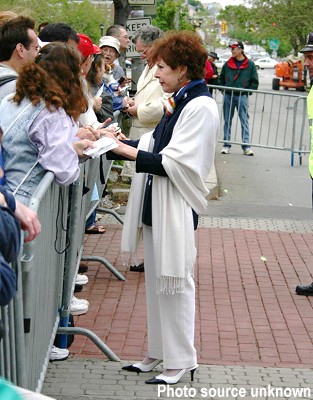 We even gave her a fancy martini glass one year as a thank-you for participating in our live online world-wide chat which she loved (which reminds me, during that chat which also included Bernard Fox, you could hear all the tinkling cocktail glasses in the background as they all partied while answering questions from the bewitched.net fans :-).
I spoke with her not too long ago, and while it was a little hard to understand her, she still had that sparkle in her voice. She faced the hardships of the cancer treatments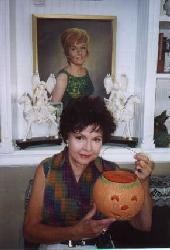 like a warrior and I never heard her complain. Mark said he himself could never have gone through what Kasey had. He said he got his strength from her. She had a very radical surgery last year, but within a very short time, flew across the country to Boston for the bronze Elizabeth Montgomery statue dedication ceremony. She looked wonderful. If you knew what she was battling at the time, you would know what kind of guts and strength it took for her to make that trip.
Mark and Kasey collaborated on many Bewitched TV projects plus a number of books including the "Bewitched Cookbook", "Create a Bewitched Fall-O-Ween", "Halloween Crafts: Eerily Elegant Decor", "Decorating for Christmas", and "Character Wreaths: 12 Holiday Projects for Year Round Decor".
Joe loved her and even wrote a song for her, entitled "Kasey", and describes it on his web site: "As delicate and tasty as a strawberry souffle. The sweet and light sound of this song was inspired by its namesake, the beautiful and talented Kasey Rogers, best known as "Louise Tate" (Larry Tate's wife) from the 1960's "Bewitched" TV series. I have always had a crush on her. I was lucky enough to deliver the song to her in person". It can be heard here.
Lastly, Kasey was a real LADY, in the traditional sense of the word. They don't teach our girls the refinements of being a "lady" the way they did in years past, but Kasey exemplified these virtues, posessing among other things, that special "feminine mystique". She also was a wonderful mother to 2 daughters Mona and Monika, 2 sons Mike and Jay, in addition to being a loving grandmother. They had weekly family get-togethers, spending precious time with the family that was so important to her.
We will always remember Kasey as someone who never gave up living, refused to get depressed and who was dignified and elegant right through the end of her life. We will always remember the beautiful relationship she and Mark Wood had. All of us should be lucky enough to have such a love in our lives. Mark, you are a very special person, we love you and thank you for all you have done for Kasey, making her life rich and full and bright for so many years. Please take care, we know this will be a very, very difficult life transition for you.
Kasey, we know you now sit up on Cloud 9, along with Liz, Dick, David, Aggie and Sandy, all planning that next Bewitched episode "cosmos" edition. Hugs to you all.
All our love, Joe and Wendy
http://www.bewitched.net