Bewitched-Worn Circa 1890 Diamond Brooch For Auction At Sotheby's April 10, 2003


NOTE: The auction has ended and the brooch sold for $6,000
We have some really exciting news - there is what I believe to be the only Bewitched-worn article ever to come up for sale which is being offered by Elizabeth Montgomery's son Bill Asher Jr. through Sotheby's "Magnificent Jewels" auction April 10, 2003. Bill contacted me to write the biography for Elizabeth which appears in the auction catalog. Here are the details:
The diamond brooch/necklace (it can be worn either way - as a pin or on a chain) was owned by Agnes Moorehead and was worn by her in numerous episodes of Bewitched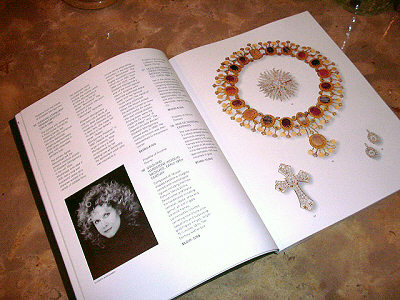 and it was also worn by Agnes on a 1960's episode of Password. It was left to Elizabeth Montgomery in Agnes' will, and when Agnes died in 1974, the necklace was given to Liz. When Elizabeth died in 1995, her son Bill Jr. inherited it and decided to offer it for sale at Sotheby's so a great fan or collector could treasure it. How often do you see something for sale that was worn on Bewitched OR something that owned by two of the most important actresses of the 20th century? The fact that it was show-worn really increases the importance and uniqueness of this piece of jewelry. There is no question that it will only increase in value as the years go by and people see the scarcity of Bewitched-worn items.
Detailed Description Of Brooch:
An Edwardian Style Diamond Sunburst Pendant/Brooch
The Diamonds: Early 20th Century
The hand fabricated gold mount set with:
1 round (old European cut) diamond, weighing approx. .50 carat;
8 round (old European cut) diamonds, weighing approx. 1.60 carats;
48 round (old European cut) diamonds, weighing approx. 3.10 carats;
144 round (old European cut) diamonds, weighing approx. 5.50 carats;
melee grading:
clarity: (median) ;
color: H-J ;
gross weight: 15.9 g.
Projected range of item: $3,000-$4,000
Auction Details:
The item number for the brooch is #55. The name of the auction is "Magnificent Jewels". You MAY do absentee bidding by phone as well as online bidding through Ebay/Sotheby's.
Absentee Phone Bidding
If you do not have a catalog, you must call Sotheby's at 212-606-7414 and request that an absentee bidding form be faxed to you. After you fill out the form, you fax it back to them along with a copy of your photo ID. This will register you for the auction.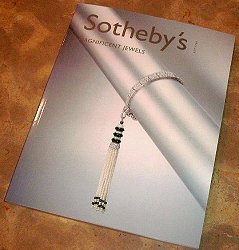 I would recommend that you do this at least 1 day prior to the auction. You must stay by the phone the day of the auction and someone will call you shortly before item #55 comes up. Remember, this is live bidding, so you will be on the phone and will be bidding along with people present on the floor and online. Your phone contact will tell you the current bid and will ask you if you would like to bid more. If so, you will give them your bid. You will be kept apprised of whether or not you have been outbid and will have the chance to bid again (and so on).
Online Internet Bidding
NOTE: You cannot register at the last minute for online bidding - you must register no later than April 7, 2003 for this auction to be safe. If you wish to bid online, click the "Bid Live" icon on this page which takes you through the E-bay/Sotheby's portal and sends you to register with Sotheby's.
Live In-Person Bidding (New York City)
The auction begins at 10:15 AM Thursday April 10, 2003. Sotheby's is located at 1334 York Ave at 72nd. st. New York, NY 10021. Arrive early enough to register in person. You need to have 2 forms of ID for in-person bidding, one being a photo ID (such as a driver's license) and the other can be a credit card, etc. Make sure you have your bank account information with you in case they ask for it. After registering, you will be issued a paddle and you will bid as you would normally at any auction.
Other Info
This link takes you to the item and description on Sotheby's site.
More details can be gotten by calling 212-606-7414. There will be a preview viewing of the items in this auction at the following location: April 5-9 at Sotheby's 1334 York Ave at 72nd. st. New York, NY 10021. The preview schedule is as follows:
Saturday, 5 Apr 03, 10:00 AM - 4:45 PM
Sunday, 6 Apr 03, 1:00 PM - 5:00 PM
Monday, 7 Apr 03, 10:00 AM - 4:45 PM
Tuesday, 8 Apr 03, 10:00 AM - 4:45 PM
Wednesday, 9 Apr 03, 10:00 AM - 4:45 PM
Thursday, 10 Apr 03, 10:00 AM - 12:00 PM
Again, the auction begins at 10:15 AM Thursday, April 10, 2003. The main Sotheby's number is 212-606-7000.
Please spread the word about this fabulous opportunity, Agnes Moorehead sites and fans will be interested as well as Elizabeth Montgomery/Bewitched fans and collectors! Good luck and we hope you will get the chance to bid on this once-in-a-lifetime piece of history!